Humans have been on the move since the dawn of time. Scientists are a peculiar migrant "species," as they move around the globe following their passion, looking for the best places to learn new skills, and carrying out their next projects. These migrations help push scientific progress forward.
La Jolla Institute for Immunology (LJI) could not flourish without its international researchers. In a recent survey conducted by LJI's diversity, equity, and inclusion committee, about 48 percent of the respondents reported they were born outside the United States. These respondents hailed from 32 different countries.
This is the story of four researchers from different parts of the world who followed different paths but all ended up at LJI.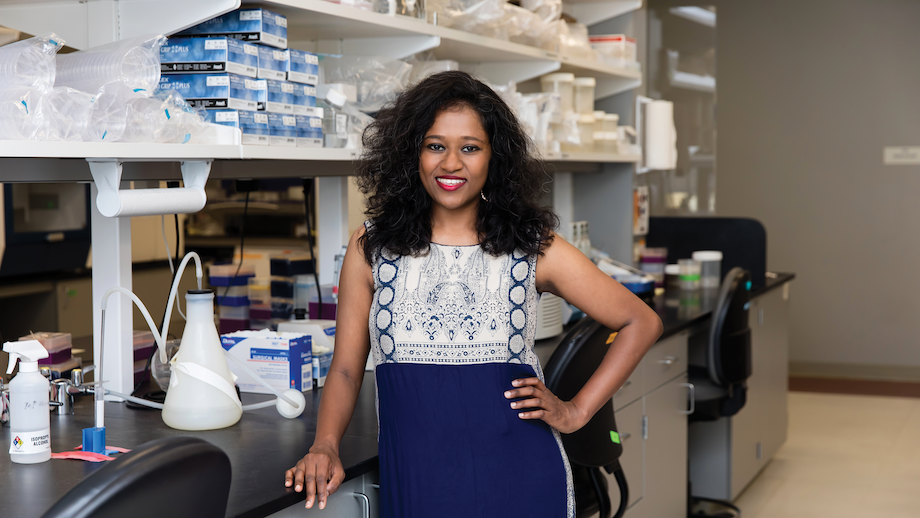 Priyanka Saminathan, Ph.D., is an Indian postdoctoral fellow, originally from Kuwait, who leads research in the laboratory of Associate Professor Sonia Sharma, Ph.D.
Her interest in immunology was born during her undergraduate training in India when she attempted to set up a protocol to analyze her sister's mysterious allergic reaction to antibiotics that doctors were unable to characterize. The diagnostic device Dr. Saminathan thought up remains theoretical, but the project lit the spark for her future career.
Science drove her westward: Dr. Saminathan trained in India, Estonia, and Scotland before landing in the United States. She has been following LJI research since she moved to America to earn her Ph.D. at the University of Rochester Medical Center in New York. She finally had the opportunity to join Dr. Sharma's group in 2021. Here, she investigates sex-based differences in the immune response to SARS-CoV-2 and in Alzheimer's disease. To tackle those issues, Dr. Saminathan uses flow cytometry, a technique she describes as "the right hand of an immunologist."
"One of the reasons I moved to LJI and interviewed with both Dr. Lynn Hedrick and Dr. Sharma is because they are amazing female role models," she says. Dr. Saminathan knows from personal experience the importance of a good mentor, and she is trying to become one: At LJI she found a place where she can cultivate her passion for teaching, a fundamental skill to guide future scientists.
[Blog highlight:
Priyanka Saminathan's inner strength
]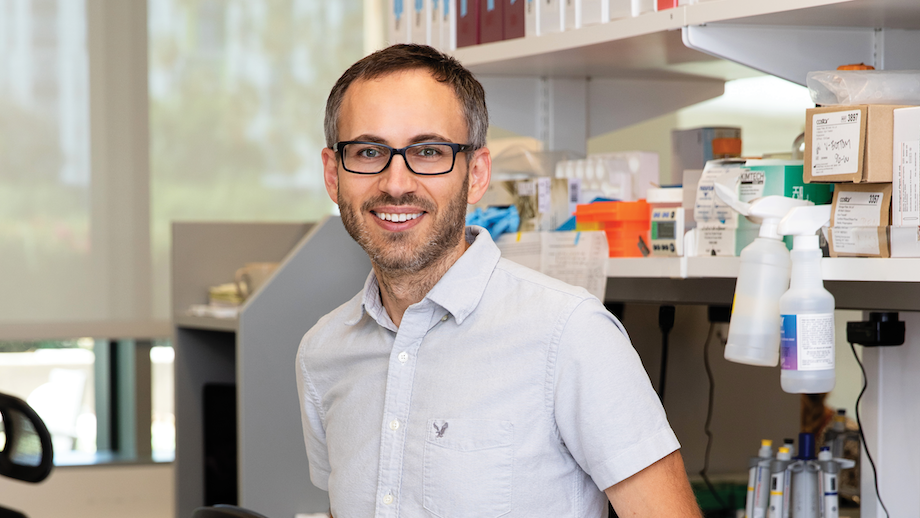 Benjamin Schmiedel, Ph.D., is a German scientist who has been working at LJI for 10 years in the laboratory of Professor Pandurangan Vijayanand, M.D., Ph.D. He has worked his way up from postdoctoral fellow to instructor.
After completing his training in Germany, where he studied the functional role of immune cells in leukemia, Dr. Schmiedel looked for an opportunity to widen his horizons both personally and professionally.
An opening in the Vijayanand Laboratory to study the role of genetics in immune cells was the perfect opportunity for Dr. Schmiedel to explore a new aspect of immunology. When he joined LJI in 2012, Dr. Schmiedel was thrilled by the idea of being part of a community that studies so many different aspects of the immune system. He came from a lab where researchers followed a strict line of questioning, so he appreciated the more varied and creative approach to research at LJI. "Here things are freer. You get to explore more and ask questions in a more flexible way,"
Dr. Schmiedel says.
Today, Dr. Schmiedel is researching how genetic differences affect a person's susceptibility to autoimmune diseases, as well as the different clinical features of COVID-19 infections. To answer these questions, Dr. Schmiedel is using techniques such as cell culture, flow cytometry, and sequencing, "which are greatly supported by the LJI facilities," he says.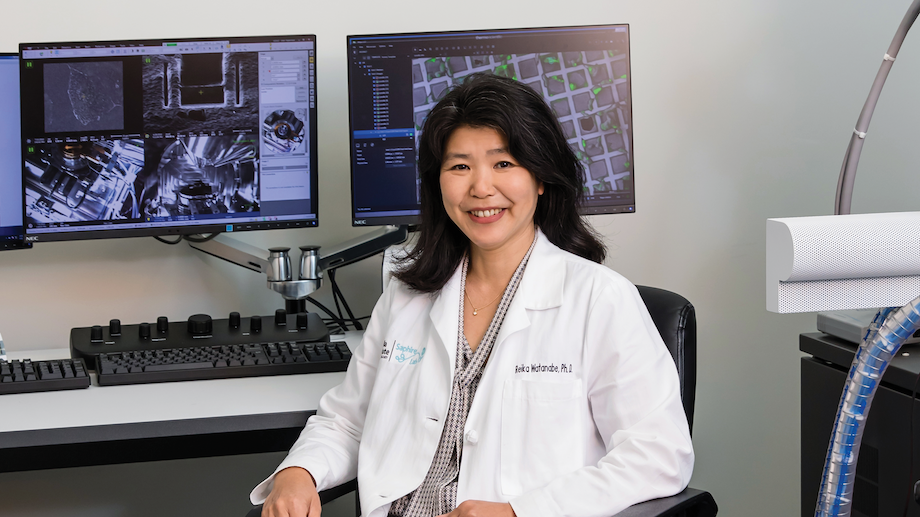 Reika Watanabe, Ph.D., is a scientific associate from Japan who leads structural biology research in the laboratory of LJI President and CEO Erica Ollmann Saphire, Ph.D.
During her undergraduate studies she became fascinated by a rare autoimmune disease, called paroxysmal nocturnal hemoglobinuria, which she studied during her Ph.D. at Osaka University. "Science made me go to different places," says Dr. Watanabe. After earning her Ph.D., she moved to Switzerland to continue studying a key protein involved in this rare disease.
During her first experience in the United States at the University of California, San Diego, she studied a protein structure in Parkinson's disease, but after a few years she sought to return to immunology: "Joining the Saphire Lab in LJI in 2020 was like closing a circle," Dr. Watanabe says. She was captivated by the way Dr. Saphire organizes her lab and by LJI's wide range of cutting-edge research instruments, which open up many possibilities for new projects.
Dr. Watanabe wants to shed light on the various biological processes that regulate host-pathogen interaction. To do so she employs her extensive expertise in cryo-electron tomography (CET), a unique tool to visualize the structure of macromolecules in their natural environment. Solving the structures of both human proteins and pathogenic molecules is critical for future vaccine and drug development.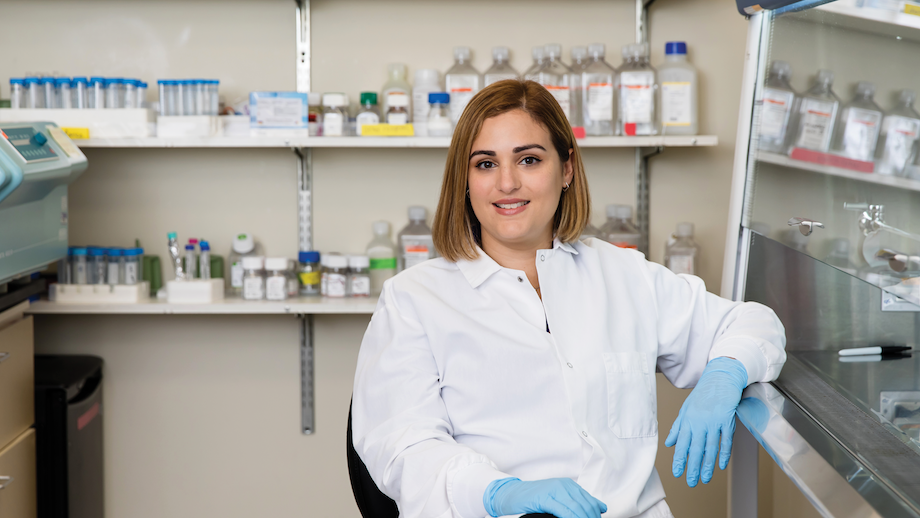 Fernanda Ana-Sosa-Batiz, Ph.D., is a Mexican postdoctoral fellow in the laboratory of Professor Sujan Shresta, Ph.D.
After completing her undergraduate studies in Mexico, Dr. Ana-Sosa-Batiz moved to Australia for her Ph.D., where she studied the antibody response to HIV and influenza virus infections. In 2017, she landed in the United States and spent the first three years focused on raising her daughter. The onset of the pandemic pushed her to return to science. "I wanted to contribute to our understanding of the immune response against this virus that caused so much damage," says Dr. Ana-Sosa-Batiz.
She joined Dr. Shresta's laboratory in 2021. "Since I was in grad school on the other side of the world I read and heard about the excellent research being done at LJI," says Dr. Ana-Sosa-Batiz. "I wanted to be in a place like this where there is no limitation to the scientific questions you can answer, and you have access to cutting-edge research."
Dr. Ana-Sosa-Batiz wants to have a full picture of antibody responses elicited by different COVID-19 vaccines and by viral infection. Her goal is to better understand which vaccines are the best tools against SARS-CoV-2. She is also hoping to learn how to design RNA vaccines.
[Blog highlight:
Fernanda Ana-Sosa-Batiz wins AAI fellowship
]
LJI was born with an international perspective.
In fact, Institute founding leaders Makoto Nonaka, Ph.D., and Kimishige Ishizaka, Ph.D., both trained in Japan before coming to California. Today, half of LJI laboratories are led by faculty members who grew up outside the United States.
Dr. Saminathan points out that international contributions are especially important in the field of immunology because scientists from different parts of the world bring first-hand experience of diseases not present in the United States. For example, Dr. Shresta's laboratory has hosted visiting scientists from Nepal who have shared their passion for confronting dengue virus, a pathogen that has infected millions of people around the world and could potentially emerge in the United States.
In return, the welcoming environment at LJI can change how scientists approach their work. Scientists here have the independence to pursue research directions that fascinate them—and they have access to the equipment, training, and experts to propel this research.
LJI administrative staff are there to help. The Institute works with an immigration attorney to set up the appropriate visas for international researchers and employee benefits include relocation services.
Working at LJI also leads to funding opportunities. Through LJI's Tullie and Rickey Families SPARK Awards for Innovations in Immunology, early career scientists can receive funding to launch new projects and gather data that can fuel their careers. Dr. Saminathan's ongoing COVID-19 research is supported by a SPARK Award.
By choosing to bring their expertise to LJI, a diverse and dedicated group of international researchers is changing how we combat disease around the world.
Article by Valentina Fajner, Ph.D.
"Our project was recognized as having real potential, and our team has received support from people who really care."
"Vaccines are incredible," says Shane Crotty, Ph.D., Professor and Chief Scientific Officer at La Jolla Institute for Immunology (LJI). "They are the only medicine recommended for every healthy person on the planet." Dr. Crotty and his colleagues recently launched the LJI Center for Vaccine Innovation. This center is home to researchers with the expertise to shape the future of vaccine design.